Seeking Smart Solutions to Your Financial Problems
I Fight for the Results You Need
Serving the Needs of Texans Since 1993
Tax Law & Bankruptcy Attorney in Dallas, Texas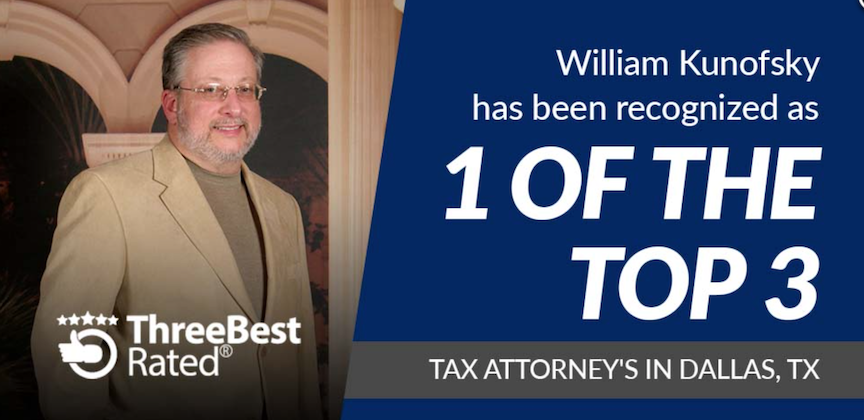 William F. Kunofsky, JD, CPA
Attorney at Law
I figured out early on that I was particularly skilled at working with the IRS. This discovery led me to pursue a career in which I could help individuals facing financial issues. My background as a CPA and passion for providing solutions to even the toughest problems make me an attorney you can count on to tackle your case with confidence. Whether you're considering filing for bankruptcy or you're struggling with your taxes, reach out today to find out how I can help you.
MORE ABOUT ME
Trust Me with Your Tax Law Issues
Don't face the IRS alone.
Experienced & Skilled
My background as a CPA gives me the in-depth knowledge to guide you toward the resolutions you need to put your tax law issues behind you. From IRS collection problems and tax audits and appeals to state and local taxes, I have extensive experience handling a wide variety of tax-related cases.
Strategic Negotiator
My effective approach to negotiation makes me a force to be reckoned with. My priority is advocating for your best interests and fighting for the most favorable outcome on your behalf. I provide patient persistence and personal attention, so you can rest assured that your case is in capable hands from start to finish.
"It isn't often you feel compelled to write; this is one of those times. Mr. Kunofsky led me through what to me was an insurmountable IRS problem, but to him seemingly 'child's play.' I shall always be grateful he was recommended to me."
Tax Client
"I have had the pleasure of knowing Mr. Kunofsky for over a year now and I found him to be a very caring attorney. He has from the very beginning tried to understand our very unique circumstances and made a real effort to help us resolve the issues we faced."
Tax Client
"William Kunofsky represented me 10 years ago and did an excellent job of resolving my issue. Since then, I have referred two friends, who were totally satisfied by the way he handled their issues, and I just recommended him today, to another friend. He is an excellent Attorney, and an expert in tax matters."
Chapter 7 Client
Achieving Financial Freedom Through Bankruptcy
Debt can wreak unexpected havoc on your life. When payments pile up, it can be difficult to dig yourself out of a financial hole. If you're feeling as though you have nowhere left to turn, contact me. At The Law Office of William Kunofsky in Dallas, I provide solutions to a myriad of financial problems. One possible answer to overwhelming debt is bankruptcy.
While it may seem that filing for bankruptcy means that you have failed, in reality, it means just the opposite. Filing for bankruptcy is the first step in regaining power over your finances and working toward a better future. If you're struggling with debt, seek the help of a legal professional as soon as possible to discuss whether bankruptcy is right for you.
I provide legal assistance to clients filing for Chapter 7, Chapter 13, and Chapter 11 bankruptcy. Chapter 7 bankruptcy involves liquidating your assets to pay off your debts. Chapter 13 is best suited for individuals with a stable income and requires you to commit to a repayment plan. Chapter 11 bankruptcy is typically filed by corporations and consists of a reorganization of assets. Working with an experienced attorney is the best way to determine which type of bankruptcy you qualify for.
Don't deal with your debt alone. Get the guidance you need today by setting up a consultation with me in Dallas, Texas. I also serve the needs of clients in the surrounding areas of Plano, Terrell, Mesquite, and Denton.